---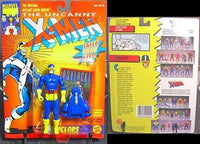 Sale
Up for sale is The Uncanny X-Men 1991 Cyclops Action Figure by Toy Biz. The Uncanny X-Men 1991 Cyclops Action Figure comes new in package and is an officially licensed product
. Co-leader of the X-Men, cool in combat and a master of strategy, Cyclops is the one member the X-Men count on to hold the team together and create a winning plan when the odds for for success seem hopeless. Cyclops mutant-energy eyebeams are so powerful that they can smash through solid steel. He can make the beams so small that they can pass through a key hole without touching the sides, or so wide that they can cover the space the size of a football field. 
The Uncanny X-Men 1991 Cyclops Action Figure by Toy Biz

 can be yours for 24.99

Shipping for this item with delivery confirmation included via USPS Priority for 5.99 

Comes new in box and original packaging

Made by Toy Biz

5 Inches long

Includes Light Up Visor and "CEREBRO" Computer

Marvel The Uncanny X-Men

Ages 5 Up
Shipping: Item will be shipped the same day of payment Monday-Friday as long as its before 3:30 pm Eastern Time, if after that the item will be shipped the next day. 
USPS Priority Mail -  Estimated Delivery Time is 2-3 Business Days
USA Customers - Spend $75.00 or more and receive free shipping via USPS Priority Mail